rainproirrigation
E110 WATER REEL TRAVELER w/ SIME K1 SPRINKLER
The E110 Water Reel Traveler with the Sime K1 Sprinkler is a simple, reliable, and portable irrigation system for pastures, paddocks, riding arenas, sports fields, vegetables, and residential settings.
Rugged construction that is guaranteed to last
DC Electric Driven Water-Reel® with 1.1" ID x 280' MDPE Tube (Battery not included)
Automatic shutoff allows for unattended operation
Mechanical level wind system with miswrap safety for uniform, reliable tube rewinding

Call us to find out more about pricing.
More info on Kifco Travelers

Delivery available for locations within a 1-hour radius of Valdosta, Georgia. Please call to arrange freight for locations outside this area. 
The Kifco Model E110 uses a DC electric retraction motor and can operate as low as 23 psi and 3 gpm for up to 40 hours on a full charge (Battery not included). An optional solar panel is available and can be purchased for hassle-free outdoor use. The sprinkler selector valve for this system easily allows for automatic sprinkler shutoff at the end of the run or continued operation. Two large flotation tires can make transport by hand or small garden tractor simple.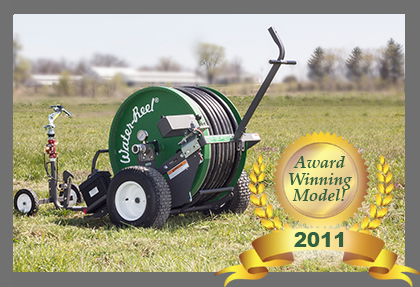 MODEL E110 TECHNICAL SPECIFICATIONS
Tube Inner Diameter/Length: 1.1"x280'
Irrigation Width: 58 - 110'
Irrigated Length: 309 - 335'
Irrigated Area Per Run (Acres): 0.4 - 0.7
Drive System: Electric Motor 
The Kifco B-Series E110 is one of two Water-Reel models to utilize the Electric Motor Drive option. These models can irrigate from almost any residential water source because of the simplicity of the electric drive and allowances for lower pressures and flows. The motor is powered by a 12V rechargeable battery (battery not included with model E140) with a run life of approximately 40 hours. This allows users to irrigate using a low-quality water source without a booster pump.

GPM Range: 3 - 26
Inlet PSI Range: 23 - 100
Hours Per Full Run: 1.80 - 9.3                                                                                            
Sprinkler Included: Sime K1   
Decal & Nozzle Kit Description of Sime K1 Sprinkler:
4 Sime Nozzles (6mm, 7mm, 8mm, 9mm), Galvanized 1 ½" Close Nipple, Reducing Bushing & Performance Chart                           
Optional Solar Panel: Kifco Model E110 can be equipped with a highly efficient solar panel which eliminates the need for an electrical charge.